The Sandbox – developing a new type of classroom
The Sandbox – developing a new type of classroom
Six years ago I had an idea for a new collaborative type of classroom. I had spent the previous 5 years getting AV equipment installed in all of our existing classrooms and was looking for an opportunity to do something different. Problem is I didn't quite know exactly what I wanted to do.
At the same time a donor wanted to do something new and innovative in the library. I pitched this not fully fleshed out idea and it peaked his interest. I ended up building a classroom from scratch. My idea was that I would lots of display options, flexible furniture and whiteboard walls. It wasn't until I was building the classroom and running cable everywhere to the multiple projectors that I decided to pull back and really take a look at wireless.
Now, six years later the room has evolved quite a bit into what we think is a pretty cool classroom. This didn't all happen at once and has been through quite the evolution, trial and error feedback loop. In fact the room became so popular that we have now built several others on campus (of varying size) and our faculty are hoping for more.
The idea is now that we have multiple display devices (we use Epson projectors) and flexible seating options that allow the room to be configured in multiple ways. We can easily "throw" or "mirror" up any Mac, Chromebook or PC in the room via Epson EasyMP (free) software. The room is really student centered as there is no front or back of the room or even any teacher podium. All of the walls are painted with Idea Paint which allows for easy Expo marker use on blank walls or on top of a projected image. The end result is a very low cost, flexible collaborative classroom that allows for teaching in many styles and has hosted all disciplines on campus.
Originally we used the interactive projectors and then the laser field touch projectors on the wall, but in all honesty the whiteboard paint is the game changer and not the interaction of the projector.  In fact we have turned off the interaction in favor of just the projection.
One of the great things about the room is that it is very easy to use (i don't want to spend hours training faculty how to use technology in a room) and also functions extremely well without any technology use at all.  I think this is key for a high tech room, flexibility and ease of use seem to trump everything.
Below are some pictures of the room (actually a few rooms on campus) from the early days of actually having a pull down screen to now where we have up to 7 projectors (and only one computer) in a room. While we do have the ability to plug in an HDMI cord to connect to the projectors, this almost never happens 98% of the time students and faculty just connect wirelessly to the displays.
If you have questions or suggestions please post, always happy to have feedback, believe me, I do not have all of the answers.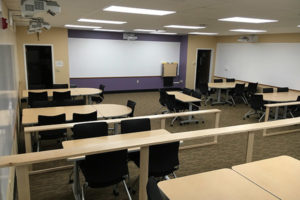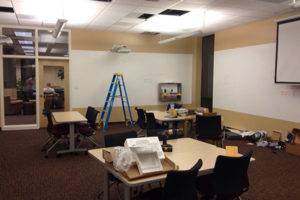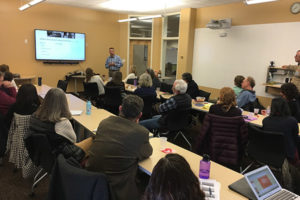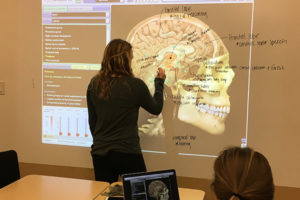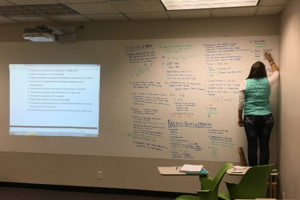 PICTURE DESCRIPTIONS:
Top left is our new 40 seat interactive room (room went from one of least popular on campus to now one of the most popular). Top right is the "sandbox classroom" in 2011 when I was putting it together (it is changed quite a bit since then).
Middle left is the "sandbox" classroom configured for a faculty presentation using a 75″ TV at one end (we now use this for videoconferencing as well). Middle right is a student studying for a test using the projection and whiteboard wall. Bottom is again a student standing on a chair to maximize the whiteboard use while mirroring other content on the wall.