Three great ways to use RSS feeds in your class
Three great ways to use RSS feeds in your class
Flipboard – for the past 4 years I have been using a personally curated Flipboard magazine (CS 103 – Ed Tech) as a great way to aggregate relevant news stories from multiple Flipboard magazines (usually current news, Technology and Education) along with stories from the web, for my Instructional Media class. For me and the students this has become a great reference that they can use not only for the 3 months that they are in my class but also beyond as they continue their college career and beyond. I usually add anywhere from 5-15 stories per week to the magazine. This helps by keeping me up to date (gathering the stories to flip into the magazine) and them, by showcasing what I think could be some of the next big things in Ed-Tech and even ideas for technology based lesson plans. I have over 1,600 articles in the magazine so far.

Twitter and IFTTT – Twitter has long been a source of not only new information but also a great way to develop and expand a PLN (personal learning network). I have "met" some great folks over the years and also used twitter as a way to gain feedback and insights on my conference presentations. Additionally, I have used it to gain special promotions, free conference registrations and even new Ed-Tech products by tweeting and highlighting new technologies. With hashtags, I have used twitter as a gamification device for our Mountain Moodle Moot conference and connected it to badges inside of Moodle. With twitter widgets (think RSS aggregator) i have embedded a twitter feed on a web site to constantly update as tweets come out. This gives a sense of instant dynamics without me doing anything to a site. You could easily use this connection in a classroom as an embed feed in a HTML widget for an LMS (like Moodle).
I recently just connected my learning log (this wordpress install) for this class using the If- This-Then-That service (IFTTT) to tweet any new links out that i post on my blog automatically. You could connect a service like this to automatically send out information to all parents as things happen in a course.
Another idea for use in a classroom would be to follow twitter accounts such as the historical daily news for the civil war recreated, the international space station tweets or even tweets from other classrooms around the world. Connections, it is all about information and connections.
Targeted current content on subject areas. I have introduced RSS feeds (such as the New York Times) to many faculty who are teaching a specific content based current course. For instance a course on the health care system and what changes are being proposed, or environmental issues, or even specific country issues (an example would be #Ghana, Africa). Not only can this be a great way to bring up-to-date current issues into the classroom for discussion but you can assign feeds and have the students summarize the happenings for the week as a way to distil and identify what is relevant and what is not.  Using just a standard RSS feed generator (such as Feedity) you can customize what comes and what does not. This is also a great way to teach students about critical thinking and discerning what information is good information as opposed to just standard internet content.
Personally, I am a big fan of RSS feeds for some of the reasons stated above. People are already using a form of RSS feeds in app notifications. Things like this weather storm is coming in or score updates for their favorite sports team or even news notifications of big news stories. By allowing apps to send these to us on our phones, tablets or computers we are getting relevant up to the minute news on things that we deem important.  With so much content to wade through in this new age, it is nice that we can just dilute it down to what we want for personal use, for our students or for creative learning.
As a visual bonus I created a Word Cloud using the content of this post.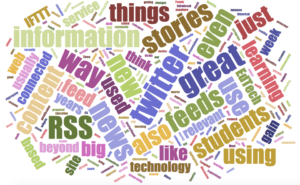 Post tagged as #EDTECH501 around AECT Standard Content Knowlege 1.1
As opposed to a reference list at the end, i have chosen to link throughout the post – hope that is ok. (class stuff – for those regular web folks curious as to this bottom information)